Back to Blogs

Best Places to Move Abroad in Europe 2023: How to Choose?
​Interest in the EU job market is finally increasing both among European cross-border job seekers and talents outside the EU who want to move abroad in Europe after the global hit on mobility according to Indeed Hiring Lab's report "Brain gain or drain? How shifts in international job search are accelerating global competition for talent". The report states that "the cross-border searches by European job seekers are still 10% under their 2017-19 average, but they are up substantially from the pandemic low of 32% below that level". 2017-19 was indeed a milestone for the international recruitment scene in Europe and we know how 2020 changed it all. Now experiencing the rebound of the cross-border job search first-hand as an international recruitment company covering the multilingual labour needs mainly in Spain and Portugal, we can confidently say that the golden era of European labour mobility is coming back!
Where is the best place to move abroad in Europe?
To be frank, there is no definitive answer to this question as what makes a country the "best" to live in varies from person to person. Some may find countries like Germany or Sweden to be the best due to their strong economies and high standards of living, while others may prefer smaller countries like Spain, Portugal or Greece for their relaxed Mediterranean lifestyle. Ultimately, it is up to the individual to decide which European country is the best to live in. Let's take a look a bit deeper to understand where these popular results come from.
In order to decide the best place to move abroad for your preferences, you need to check several factors. Many people use indicators before making a decision like in OECD's Better Life Index such as Housing, Income, Job Opportunities, Community, Education, Environment, Civic Engagement, Health System, Life Satisfaction, Safety and Work-Life Balance. These measures, in general, will help you to choose the best country regarding your own preferences and needs within Europe.
​
Europe: Quality of Life Index by Country 2023
​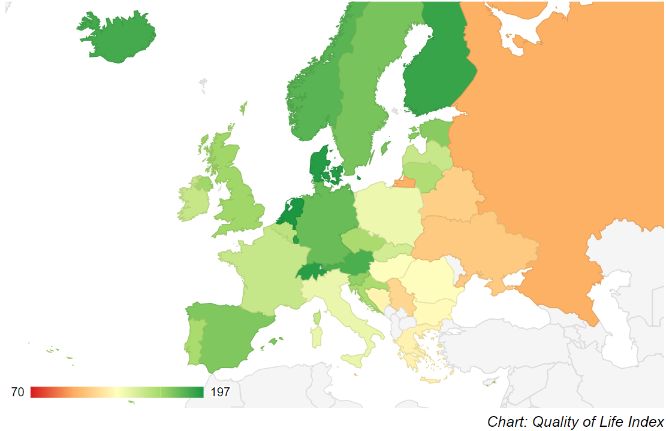 According to the Quality of Life Index which also considers indicators like purchasing power, traffic commute time and pollution and climate indexes, the following countries are in the top 15 best places to live in Europe

Netherlands

Denmark

Switzerland

Luxembourg

Finland

Iceland

Austria

Norway

Germany

Sweden

Spain

Estonia

Slovenia

United Kingdom

Portugal

Find a Job Abroad
One important criterion, if you want to move abroad, is to check the employment opportunities. Depending on your lifestyle, factors like the general income and top industries hiring in the country of your choice might be quite important for your decision. According to Indeed's report, the current job seeker mobility shows that the top 10 most attractive countries in Europe for international jobseekers are as follows: Luxembourg, Switzerland, UK, Germany, Ireland, Netherlands, France, Belgium, Spain and Portugal.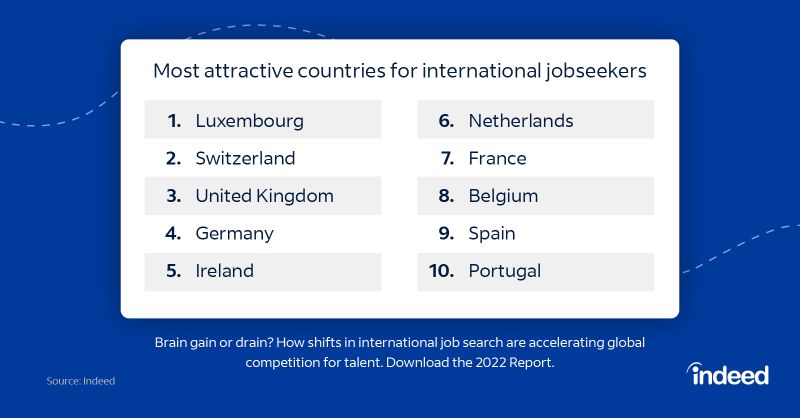 There are many more questions to ask before you make your final decision: Which country has the nicest people in Europe? Where is the easiest place to live abroad? Which country has the best climate all year long? In which country can I find more like-minded people? What is the cheapest and safest country to live in Europe? etc. etc. There's no end to it. While you can find the answers to some of these questions, many of them cannot be answered by these indexes unfortunately, the answers will be quite different from one person to another. The best would be travelling to the country of your options before you make a final move, getting advice from the expats living there or trying and learn it by yourself.
We already have answered some of the best questions with tips that can help you to make a move to a new country in our blog article How to Move Abroad Easier Than You Think. The rest is on you! Make your research and decide. When you are ready to find your next job in the country of your dreams check our job offers!