Back to Blogs

What Is Chandler Bing's Job?: We Found His CV!
Almost 25 years after the first episode of Friends was broadcasted, something magical happened today. We received a very important document from an anonymous source!
And I'm very honoured to write this post while listening to Space Oddity by our beloved David Bowie.
​
What Is Chandler Bing's Job?: We Found His CV!
What was Chandler Bing doing for a living?
Chandler was very right saying that "so it seems this internet thing is here to stay" because it is still here and people are still googling this question. "What was Chandler Bing's job" has always been one of the main significant questions to be answered to understand the real fans of the show.
— Spoiler Alert –
(I know it's 2019, but there are still are people -even here at Blu Selection-
have never watched Friends)
I know the Friends fans already know what Chandler Bing was doing for a living. It turned out that the times he was in his office, besides smoking, he was actually occupied doing some processing stuff with some data and made a lot of money out of it. But do you know what really happened before he started to make the best catchphrases for the advertising industry? And most importantly, has anyone seen Chandler Bing's CV so far?
​
​
Here you go! Chandler Muriel Bing's CV:
It seems like Chandler's time machine worked again and took us into a mysterious time just after The Last One (or is Chandler still a Junior Advertising Copywriter?).
​
​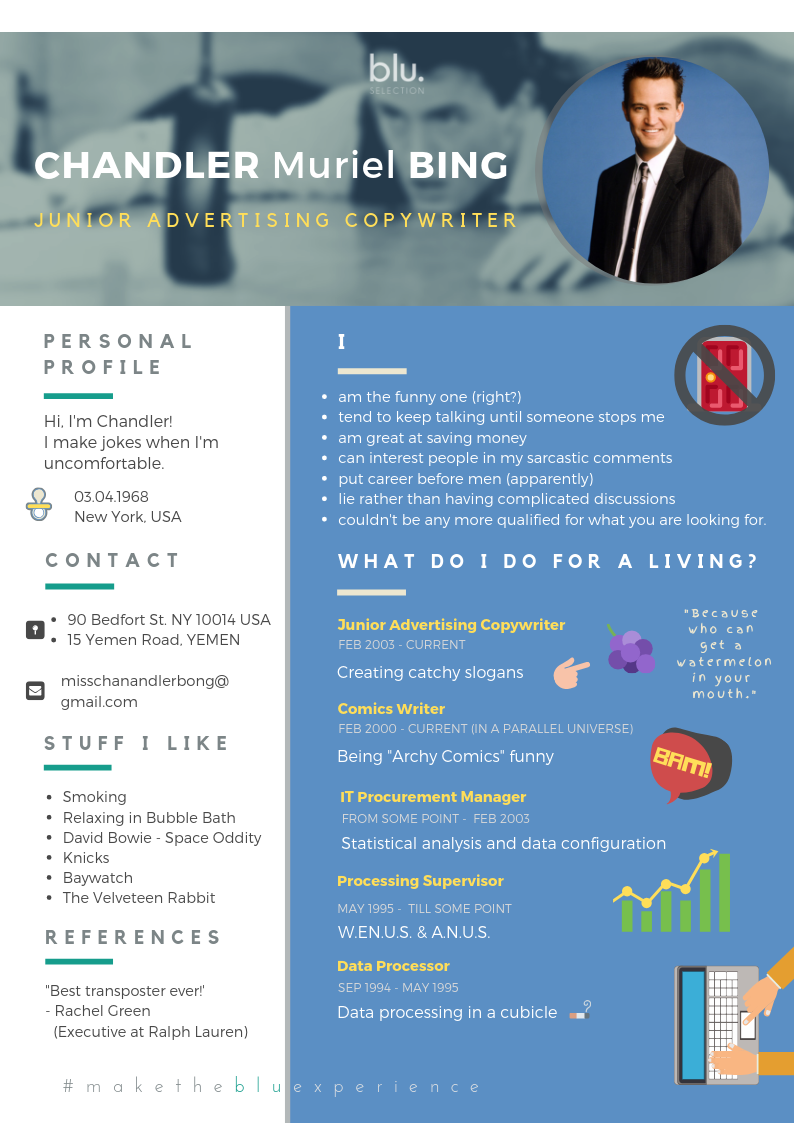 ​
Could that BE any more Chandlery funny?
​
​
We wish you the best in your job search, Chandler! Did you already check our offers?