​Moving to a new city can be a thrilling adventure, especially when that city is Barcelona. With its rich history, vibrant culture, and stunning architecture, Barcelona has something for everyone. Whether you're a foodie, a beach lover, or a history buff, this city is sure to capture your heart.
In this guide, we'll cover everything you need to know about living in Barcelona, from finding a place to live to exploring the city's best sights and sounds.

Can I just move to Barcelona without a job?
​Moving to Barcelona can be an exciting prospect, but there are several things to consider before making the move. One of the most common questions people have is whether they need a job before moving to the city. The answer to this question depends on several factors, including your employment status and country of origin.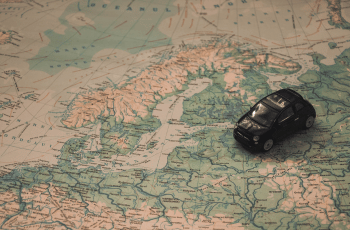 EU citizen
If you are moving from within the EU, you have complete freedom of movement, so you don't need to secure a job before you arrive. However, you will need to obtain a NIE number upon arrival, which is an identification and tax number.
That being said, securing a job before moving to Barcelona is not always necessary. If you are a student, retired, digital nomad, or spouse of a Spaniard, there are different visas available that do not require you to have a job offer.
For digital nomads, we have good news. The digital nomad visa is now available and opens a lot of new doors for foreigners in Spain.
Non-EU citizen
If you are moving from a non-EU country, you will need to obtain a visa. If you have already secured a job in Barcelona, you can apply for a Work Visa, which will allow you to live and work in Spain. Alternatively, if you do not have a job offer, you can apply for a Non-Lucrative Spanish Visa, which requires you to prove that you have sufficient funds to support yourself.
It is crucial to note that immigration rules can change, so it is essential to check the requirements for your particular situation and nationality before making any decisions. Nonetheless, Barcelona offers many job opportunities, including entry-level jobs, customer service, support, and tourism-related jobs, making it an attractive option for job seekers.
Finding a Place to Live in Barcelona
One of the first things you'll need to do when moving to Barcelona is find a place to live. With so many neighbourhoods to choose from, it can be overwhelming at first. However, with a little research and some patience, you're sure to find a home that suits your needs. Read more about how to rent a flat, shared apartment or co-living space in Barcelona and how to avoid apartment scams.
The Best Neighborhoods in Barcelona
​From the bohemian charm of Gracia to the bustling energy of El Raval, Barcelona has a neighbourhood to suit every taste. Here are some of the city's most popular neighbourhoods: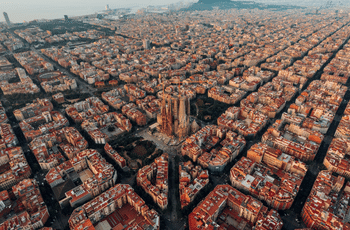 Gracia:
This charming neighbourhood is known for its artistic vibe, narrow streets, and lively plazas. It's a great place to live if you're looking for a bohemian atmosphere and plenty of cafes and bars.
Eixample:
This district is famous for its stunning architecture, including the iconic works of Antoni Gaudi. It's also home to some of the city's best shopping and dining.
​
Barceloneta:
If you're a beach lover, this neighbourhood is for you. It's located right on the Mediterranean coast, and it's full of seafood restaurants and lively beach bars.
Sarria-Sant Gervasi:
This upscale neighbourhood is known for its peaceful streets and green spaces. It's a great place to live if you're looking for a quieter atmosphere.
Getting Around Barcelona
One of the best things about Barcelona is that it's a very walkable city. Many of the major sights and neighbourhoods are within walking distance of each other, and there are plenty of pedestrian streets and plazas to explore. However, when you need to go further afield, there are plenty of transportation options available.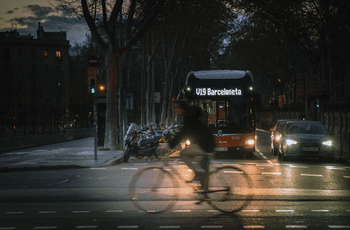 Public Transportation
Barcelona has a comprehensive public transportation system that includes buses, metro trains, and trams. The metro is the most efficient way to get around the city, with 12 lines and more than 150 stations. You can purchase tickets at any metro station or use a rechargeable T10 card for multiple journeys.
Biking
Barcelona is a bike-friendly city, with plenty of bike lanes and rental options available. Biking is a great way to explore the city at a leisurely pace and get some exercise at the same time.
Driving
While it's possible to drive in Barcelona, the heavy traffic can be challenging to navigate, and parking can be expensive and hard to find.
Walking
Barcelona is a walkable city, at least while it's not too hot. The city centre of Barcelona has a lot of cafés, bars and amazing architecture to discover. That's why it can be very rewarding to discover the city on foot and reveal all its hidden gems. A little tip, try out smaller streets away from the main Rambla to escape the crowds and have a nicer walking experience in Barcelona.
​


Exploring Barcelona: Uncovering Fascinating Facts
Barcelona, the capital city of Catalonia, Spain, is a bustling hub of art, culture, and history. The city is home to many fascinating landmarks, attractions, and activities that draw in millions of visitors each year. But, did you know that Barcelona has a wealth of interesting facts that will leave you spellbound? Below, we'll uncover some of the most fascinating facts about Barcelona that will make your visit to the city even more enriching.
​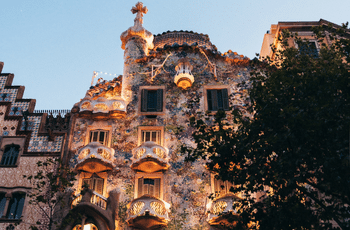 Barcelona is home to the Iconic Sagrada Familia
The Sagrada Familia is one of the most iconic landmarks in Barcelona. Designed by Antoni Gaudi, the Sagrada Familia is a massive Roman Catholic church that has been under construction since 1882. The church is still incomplete, and it's estimated that it will take another decade or two to finish. Despite its unfinished state, the Sagrada Familia attracts over 3 million visitors every year.

Barcelona the Foody Paradise
If you're a foodie, Barcelona is the perfect destination for you. The city is famous for its mouth-watering cuisine, and its culinary scene is unrivaled in Spain. From traditional tapas to avant-garde Michelin-starred restaurants, Barcelona has it all. The city's most famous dish is paella, a delicious rice dish that originated in Valencia but has become a staple in Barcelona's culinary culture.

Barcelona is home to Some of the Most Beautiful Parks in Europe
Barcelona is blessed with several beautiful parks, making it a perfect destination for nature lovers. The city's most famous park is the Park Guell, designed by Antoni Gaudi. The park is famous for its whimsical architecture, stunning views, and colorful mosaics. Another beautiful park in the city is the Ciutadella Park, which is home to several museums, a zoo, and a lake where visitors can rent rowboats

Jobs in Barcelona


Barcelona is a Football City
Barcelona is home to one of the most successful football clubs in the world, FC Barcelona. The club has won numerous domestic and international titles and boasts some of the world's most famous players, including Lionel Messi. If you're a soccer fan, visiting the Camp Nou stadium, the home of FC Barcelona, is a must-do activity when you're in the city.

Barcelona is a City of Festivals
Barcelona is a city of festivals, and there's always something happening throughout the year. The city's most famous festival is La Mercè, a week-long celebration that takes place in September. The festival is a vibrant display of Catalan culture, with parades, fireworks, and traditional dances. Other festivals in the city include the Carnival, the Barcelona Beer Festival, and the Sitges Film Festival.

Barcelona is a City of Art and Architecture
Barcelona is famous for its unique architecture, and the city is home to several UNESCO World Heritage Sites. Antoni Gaudi's works, including the Sagrada Familia, Park Guell, and Casa Batlló, are some of the city's most famous landmarks. The city is also home to several museums, including the Picasso Museum and the Joan Miro Foundation.

Another thing to consider is the cost of living.
While Barcelona is a relatively affordable city compared to other European destinations, it can still be pricey in certain areas. Housing, transportation, and food are some of the biggest expenses to keep in mind, but there are plenty of ways to live within your budget and still enjoy all that the city has to offer.

Job opportunities
​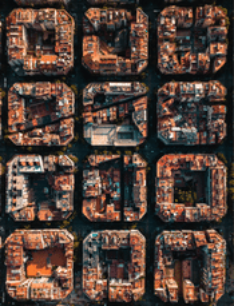 In terms of job opportunities, Barcelona is a growing hub for startups and tech companies, as well as a popular destination for digital nomads and freelancers. Whether you're looking for a traditional office job or want to pursue your own entrepreneurial dreams, there are plenty of opportunities to be found here.
Let's explore some of the most in-demand job opportunities in Barcelona, including entry-level jobs, customer services, and support, and tourism.
Entry-level jobs
If you're just starting your career, there are plenty of entry-level job opportunities available in Barcelona. These jobs typically require little or no experience and provide on-the-job training. Entry-level job roles include customer service representatives, administrative assistants, retail sales associates, and delivery drivers.

Customer service and support
Customer service is an essential aspect of any business, and Barcelona offers plenty of job opportunities in this sector. These jobs require good communication and problem-solving skills, and they involve interacting with customers to provide information, resolve issues, and maintain customer satisfaction. Job roles in customer services and support include customer service representatives, call center agents, technical support specialists, and customer service managers.

Tourism
Barcelona's tourism industry is booming, and it offers a range of job opportunities for people interested in this sector. Tourism jobs involve providing information and assistance to tourists, planning and organizing tours and activities, and managing travel arrangements. Job roles in the tourism industry include tour guides, travel agents, hotel staff, and event planners.

Language teaching and translation
As a city that attracts a diverse population, language teaching and translation are also significant sectors for job opportunities in Barcelona. Roles in this sector include language teachers, translators, and interpreters.
Read more about the most in-demand Jobs in Spain in our blog!


Enjoy Barcelona to its fullest - Barcelona Expat Life
Perhaps the best thing about living in Barcelona is the sense of community that you'll find here. Whether you're a local or an expat, there's a welcoming spirit in the city that makes it easy to make new friends and connections.
And let's not forget about the nightlife - Barcelona is a city that truly comes alive after dark. From trendy rooftop bars to underground clubs, there's always something exciting happening in the city at night. But even during the day, there's no shortage of things to see and do in Barcelona. From visiting world-class museums and art galleries to exploring the winding streets of the Gothic Quarter, there's always something to discover here.
Do you want to know everything about Barcelona and connect with a broad community of Expats? Then follow
Barcelona Expat Life
. The collection of Lifestyle, Housing, Jobs and Events will keep you up-to-date about everything in the city.
​
Overall, living and working in Barcelona is a truly unique and rewarding experience. With its vibrant culture, stunning architecture, and warm, welcoming people, it's a city that will capture your heart and leave a lasting impression on your soul. So if you're looking for a new adventure and a chance to immerse yourself in a new culture, Barcelona is the perfect place to call home.
​
​
Related Articles