Back to Blogs

Here is The CV Sent by Steve Jobs to Get a Job, Before Apple
​When you think about one of the persons who totally reinvented the Technology Industry you normally think that they are one of those who just does everything perfectly with no exceptions. We have found one exception to the legendary Steve Jobs.
Three years before he created Apple, at the age of 18 years old, he presented a job application somehow unusual from what you can expect.
​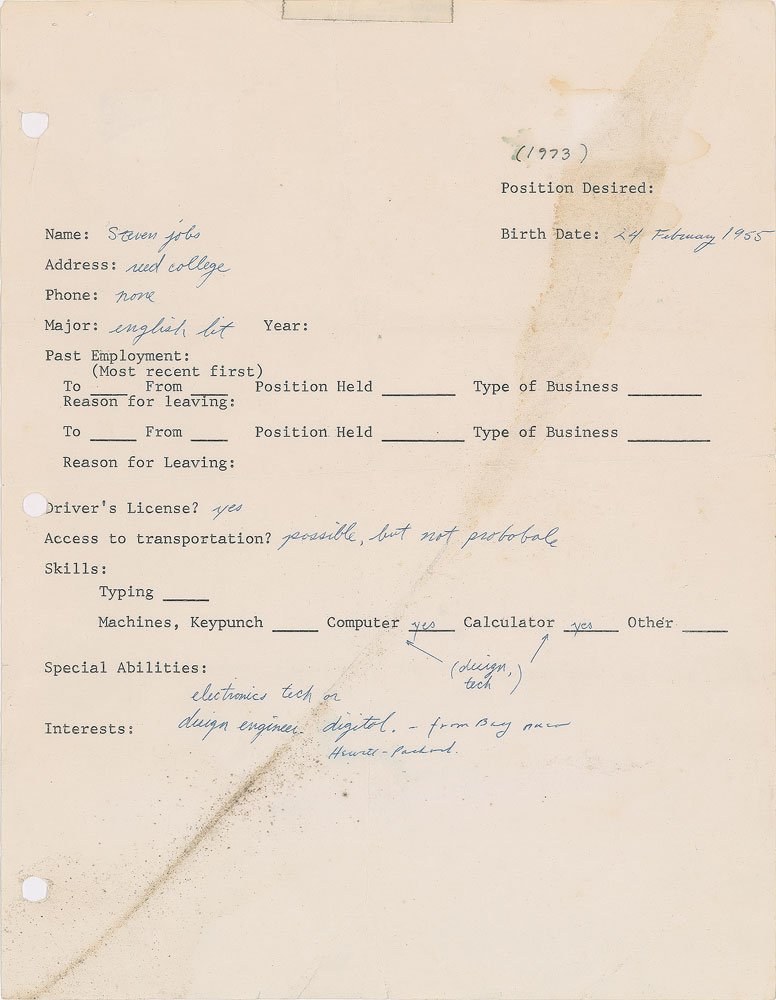 Photo credit: RR Auction
​
What do you think? It is not necessary to be an expert to find big mistakes in it.
No capital letter on his full name; His college as the main address; No phone number; Possible but not probable access to transport…
More important than that, he does not even put his previous experience at Hewlett-Packard in the given section, but only as a small mention which we can barely see. We cannot even know the position desired from the ready-made CV filled.
He does not sound like the most motivated candidate, right? Do you think his computer and calculator skills helped him to get the job? We know that Steve Jobs started to work at Atari one year later than this CV, but we cannot be sure from the destiny of this document, maybe he got excellent interview skills.
We cannot suggest you do the same, but no matter what, we know the legend of Steve Jobs made this piece of paper showing his lack of motivation worth 50.000$!